Starting Off

Are you planning for your wedding and looking to create a meaningful color scheme, but you're having a hard time choosing which colors to use? Do you have a color you really like and you're looking to accent that color with other colors similar to that color or colors that complement that color? Then this blog post is for you!
Before we get started let's talk about color. What makes a color palette good? This is largely a personal question as some people prefer vivid, bright colors, and some prefer muted softer colors. Having different preferences is what makes us unique, so instead of talking about what your personal preference is, let's talk about using your personal preferences to select a color palette! 
If you're familiar with Shades and Hues skip ahead to Choosing a Base Color to Create a Color Scheme.
Making a Color Palette
For this blog we're going to utilize a fantastic resource: Adobe Color! If this is the first time you have used Adobe Color, let me run down the panels you'll need to understand. On the left you have the Color Harmony Rules.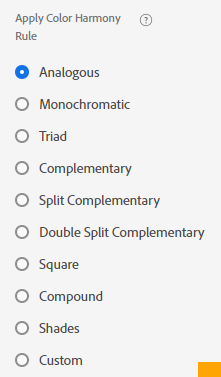 Color Harmony Rules are a collection of rules that use a base color and defines a series of colors that are similar to it in shade or hue, or complement it in shade or hue.


Shades
No, I don't mean what you put over your eyes, I mean a measurement of luminosity of a color. Lets click on the Shade harmony rule so that we can visualize this. Using the color wheel lets select the color #BDBCFF. You can do this one of two ways: either rotate the color wheel to this position by dragging the circle, or typing the source color into the C Color.

So let's examine what's happening here. The ratios between the Red, Green, and Blue channels remains constant, but the bottom light, the luminosity changes. That's basically what a shade is, a constant ratio of the amount of Color and a change in the brightness of that color. Adobe Color shows two dark shades and two light shades of the color we selected. Determining what shade of a Hue to use as a starting point is often a good first step in selecting a color scheme for your wedding.
Hues
Hues are displayed on the color wheel in degrees, Red, Green and Blue. Let's start with a 0 Degree Hue. If you're familiar with trigonometry, you'll identify that 0 Degrees is directly on the right in the positive X-direction no movement in the Y-Direction. In RGB Terms, that's 100% Red, 0% Green, 0% Blue. Click on the Monochromatic Color Harmony Rule and Type #FF0000 into the C channel.

In order to get the other colors from the 0 degree hue we would have to do some vector math between the blue and green channels (shortcut is just to use the green and blue at the same ratio for each of the pure hues 0/120/240 degrees). The other method is to just lower the luminosity in the same ratio with the hue percentage.
All of that technical mumbo-jumbo is simply to tell you that everything along the 0 degree line is monochromatic with the color that as selected. It's still the same hue, but has a different value of saturation and luminosity. 
Using a Base Color to Create a Color Scheme
Analogous Color Scheme
So let's go back to the Lavender Color Scheme. Using the C Channel lets select the color #BDBCFF. Then lets click on the Analogous Color Harmony Rule. If you're looking for a good color scheme in which all of the colors are similar to each other, the analogous color scheme is for you!



Starting off the analogous color scheme it it creates a default hue shift near the color initially created. An analogous color scheme shifts the hue of the target color by the same degrees in either directions. Adobe Color does this shift twice so that you can have a total of 5 analogous colors as part of your color scheme. You can drag any of these colors to shift the hue angle. From there you can also tweak the shades of each of these colors. 

You can see that the shades of the analogous colors are similar, they have nearly equal luminosity to the base color and in general is a good starting point if you are looking for similar colors to build a matching theme. Move the one of the colors around until you have a second color you like, and the other analogous colors will be shown. This is a fun and easy way to create a matching set of colors for your wedding!
Complementary Colors
Okay, but what if we want the color we choose selected as our base color to 'pop'. In simple terms, when something 'pops' it has good contrast. In the world of color contrast we call those colors complementary. Often times a single complementary color is fine, but what if you want a color scheme that features three colors? Well let me introduce you to the magic of split complementary colors! Let's use #BEBDFF and select Split Complementary.




The complementary color is the color that is the direct opposite Hue, Saturation and Luminescence. The Split Complementary Color are colors near the complementary color. Split Complementary has the same controls as the analogous color scheme, but instead of shifting the colors around the base color, you shift the color around the complementary color. Each of the colors in the split complementary are analogous with each other, and have good contrast with your base color! This makes it so you create a color scheme which highlights your base color while matching each other!
In Closing
I hope you found this helpful. There is nothing that Color Science can do to replace your personal style, so if you don't like the colors that Adobe Color says are good, choose your own! It's your special day! This tool, however, is a great way of exploring your color scheme to give you some color ideas for your big day!
Check out my wedding portfolio!